A fish finder is an electric sonar device used to attached to a boat to measure, locate, and identify the type of fish and marine creatures underwater. It creates an electric impulse from its built-in transmitter that converts it to a sound wave – as sonar technology is fully based on the use of sound waves. It thus reflects and/or showcases the kind of fish, its size, its shape, and its overall composition.
Fish finding is not just a typical pastime for some but also serves as an exploration of marine ecosystem and life. As technology came to rise, the ability of devices to track, record, and playback materials recorded underwater became easier.
Modern fish finder instruments use advanced technology and display to identify and locate fish through the help of a global positioning system (GPS). A fish finder can be used for commercial or sports purposes. It is also used to study marine life and overall marine habitat of oceanic species.
Fish finders are useful because it can make fish finding a lot easier and fun. Most of the fish finder devices in the market has the feature to capture photos and videos to document marine life that is good for aquaculture studies or simply exploring living organisms underwater.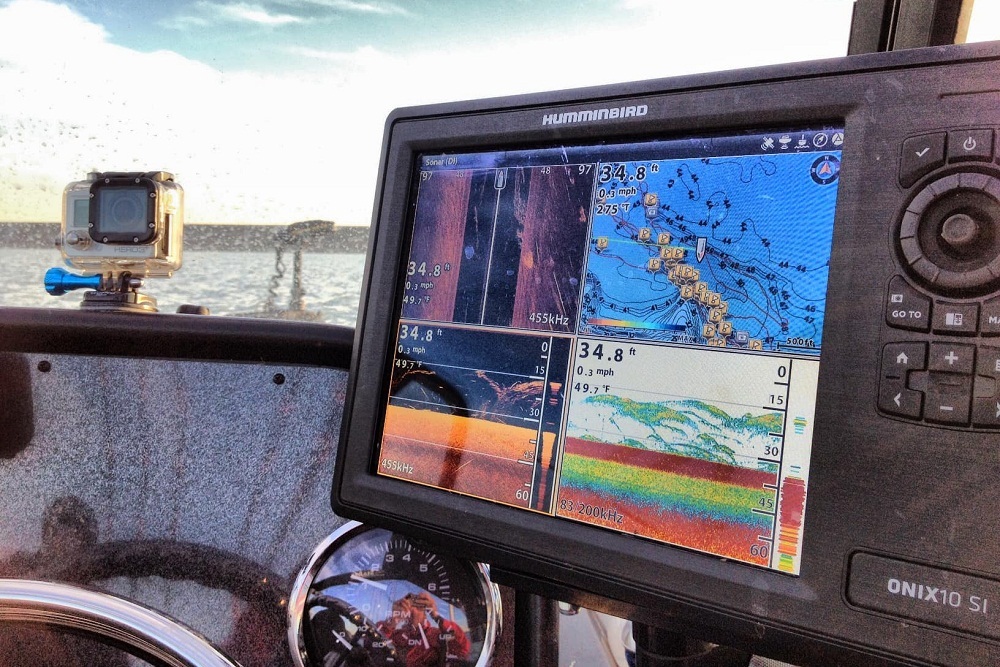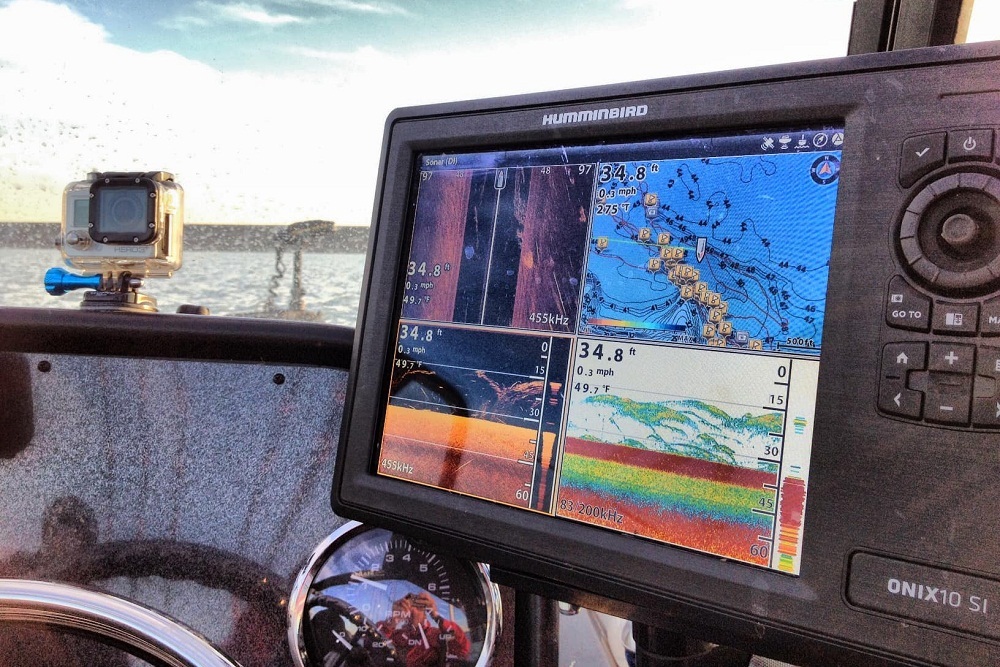 If you are one of those who are looking for the best fish finder GPS combos that can be useful for your next ocean adventure, studies, or exploration, here's the list to guide you:
The Raymarine Dragonfly 4 tops the list of the best fish finder GPS combos available worldwide because of its pro Navionics and dual-channel sonar/GPS technology. More users find the device satisfying to use because it maximizes fishing time while giving its utmost quality and performance. It uses a wide-spectrum CHIRP technology that can easily identify fish and other underwater objects or species.
Product Specifications:
It has a 4.3-inch high-definition LED backlit display that functions and is suitable for an all-weather experience.
It functions as a no internal fogging device, thus bonded for sharp color and made for wide-viewing angles.
Its dual-channel sonar captures and displays photo-like images with the use of its wide-spectrum CHIRP DownVision.
It can stream live directly to any smartphone as it is powered by Raymarine's Wi-Fish mobile application. In the app, you can save, share, and even rewind your day's adventure and catchup with your friends in your chosen social platforms.
It includes the US rivers and coastal maps for easy navigation.
It has a transom-mounted CHIRP transducer with a temperature sensor.
The Raymarine Dragonfly 4 Pro Navionics + Dual-Channel Sonar/GPS price starts at $299.99.
Another fishing device that belongs to the best onesin the market today is the FishingSir Wireless Portable Fish Finder. It has a sonar sensor transducer and 100-meter colored LCD display.
Users applauded the use of FishingSir Wireless Portable Fish Finder because it stays charged for a longer period that can last throughout the day. It has an energy-saving power mode that turns down the sensitivity of the device and its noise filter off. It has various device settings that are tailored fit to what the user needs.
Product Specifications:
It has a 2.8ʺ 512-coloredsunlight-readable TFT LCD display with V240 × H160 resolution and white LED backlight.
It has a 2-feet to 135-feet or 45-meter depth range.
Its sonar frequency caters 125 kHz with 90-degree sonar detect angle.
It is powered by a built-in lithium battery with recharge voltage of 5 volts.
It has an operational temperature of −20 to 70 degrees centigrade and has an operational range of up to 328 feet or 100 meters.
It follows a radio frequency of 2.4 GHz.
It is known to be waterproof at IP67.
It has a multi-language menu that caters Chinese, Danish, Dutch, English, French, German, Korean, Swedish, Polish, Russian, Japanese, Spanish, Greek, Finnish, and Italian.
The FishingSir Wireless Portable Fish Finder price starts at $119.99.
The Garmin series 010-01150-00 Striker 4 Fish Finder is one of the most demanded and best fish finder GPS combos. It has a built-in GPS tracking device that makes it easier to locate fish through an easy-to-navigate waypoint map. The device also has the power to check the screen's speed, and it promises portability that's perfect for kayaking, canoeing, or ice fishing.
Garmin is one of those top brands in sports and recreation, taking its bigger step in providing underwater materials like a fish finder equipped with advanced GPS capability.
Product Specifications:
It has an easy-to-use 3.5-inch colored screen.
It has highly sensitive GPS that locates fishes in no time.
It can mark and return to hot spots, docks, and ramps.
It has a convenient keypad operation of 3.6 inches × 5.9 inches × 1.6 inches with a display size of 1.9 inches × 2.9 inches with 3.5-inch diagram.
It has a sonar transducer of 77 to 200 kHz that transmits power of up to 200 watts RMS.
It is amenable for an upgrade to a high-performance CHIRP with a GT8 or GT15 transducer (sold separately for the device).
The Garmin series 010-01150-00 Striker 4 Fish Finder price starts at $118.08.
The Gobing Fishing Finder is another good promise to any fishing enthusiast out there as it belongs to the best fish finder GPS combos everyone is looking out for. The device functions with a 140-degree wide-angle lens monitor that can be used to any boats and kayaks during fishing in lakes and oceans and even on ice.
A lot of users find the Gobing Fishing Finder device highly functional because of its convenient underwater video camera fishing system that can be utilized in underwater explorations, aquaculture monitoring, diving, snorkeling, and ocean, lake, or ice fishing.
Product Specifications:
It has a 4.3-inch TFT LCD display with HD 640 × 480 resolution.
It is cold resistant, is waterproof, and has 30-meter pull-resistant cables.
It has a 6 infrared LED display best for underwater fish and marine life viewing.
It functions with two pieces of 18650 lithium battery with 6-hour working and display time.
It has an HD underwater camera that is light in weight, small, and deemed comfortable to be carried anywhere.
It also has a microphone support and carries several language functions of English, French, Spanish, German, Italian, Portuguese, Chinese (simplified and traditional), Japanese, and Russian.
The device also comes with a sunshade cover.
The Gobing Fish Finder price starts at $99.99.
The Lowrance HOOK-3X Fish Finder with transducer has a 3.5-inch LED backlit colored display that enables any of its users to view the screen even in full sunlight and from wide-viewing angles. It easily identifies fish targets, underwater structure details, and temperature. Thus, the device is supported by the Lowrance advantage service program.
Product Specifications:
It has a broadband sounder detail that can easily locate and identify fish targets, bottom structure details, and other underwater marine features.
It has an advanced signal processing (ASP) that reduces the manual adjust settings to clearly locate and see fishes and other underwater species and structures.
It functions with a dual frequency of 83 to 200 kHz operation that gives up to 60-degree conical coverage to display the full appearance of the fish.
The Lowrance HOOK-3X Fish Finder with transducer price starts at $86.58.
The Xikezan Fishing Finder is not only equipped with the underwater fish video camera but also promises integration of HD video recording, photo capturing, and video playback to provide an excellent fish and underwater view.
The device is lightweight and portable that supports a monitor of 4 inches × 2.83 inches × 0.67 inches in dimension.
Product Specifications:
It has a 3.5-inch LCD colored display with sun visor that supports real-time underwater videos. With this feature, its user can have a clear view of fish types, quantity, fish size, and fish movements.
Its waterproof underwater camera has eight pieces of IR LEDs that function well at night.
It has four viewing angles to choose from with an attached 15-meter durable cable that is cold resistant, pull resistant, and waterproof. It can handle up to 30 kilograms of weight,hence making it strong and durable.
To enjoy and maximize its use, the Xikezan Fishing Finder has a long battery life that carries 3000 mA lithium. Hence, it can be used up to 6 hours straight.
It supports up to 32 GB micro SD card to store more photos and videos taken underwater.
The Xikezan Fishing Finder with underwater fish video camera price starts at $89.99.
The HawkEye FishTrax Portable, Handheld, and Boat-Mountable Fish Finder or also referred to as HawkEye FishTrax 1C is often used by skilled fishermen or fishing sports enthusiasts. This is because of the device's high-definition fish-detecting capability. It is supported with three functional modules – the Fisher Finder, Data, and Ice-Mode Digital Flasher.
The HawkEye FishTrax 1C is also recommended to those starting fishing enthusiasts or fishermen. It features affordability and convenience given its overloaded and top-of-the-charts functions and specifications.
The HawkEye FishTrax 1C promotes expandability as it allows other accessories to be attached to the device. It maximizes the fish finder's function and performance. The device can be mounted to any fishing platform such as boats, kayaks, canoes, float tubes, banks, and docks and can also be used when ice fishing.
Product Specifications:
It has a VirtuView Dot Matrix Display.
It has a dual-frequency FishTrax intelligent sonar.
It has waterdepth detection.
It functions with fishdepth detection.
It is uniquely portable or boat mountable.
The HawkEye FishTrax 1C price starts at $81.96.
The Isafish Smart Portable Deeper Fish Finder contains 100 meters of wireless and rechargeable sonar sensor fish finder dot matrix with 45-meter-range colorized LCD display.
The Isafish Smart Portable Deeper Fish Finder is one of the best fish finder GPS combos available in the market today. The device shows clearly even in greater depths, and it even works great during ice fishing.
Product Specifications:
It has a 50 × 45mm dot matrix LCD display with a built-in contrast of 10–100% and has white LED backlight.
It can reach a depth of 2 to 120 feet or 0.6 to 45 meters and has a wireless operating range of 100 meters.
Its sonar frequency is 125 kHz with 90-degree sonar beam angle and a radio frequency of 433.92 MHz.
It functions through a lithium battery of 3.7 volts with a transducer that functions 3.7 volts.
The Isafish Smart Portable Deeper Fish Finder price starts at $69.99.
The OutLife Smart Portable Fish Finder has a wireless sonar sensor that also measures depth and temperature that can be converted from metric to English units. It is a handheld device that showcases portability and can be strapped into a lanyard to conveniently hand anywhere.
Product Specifications:
The device confirms no hassle because of its wireless performance. Any user can tie the device to the boat reaching the water and it will start to function. Its wireless operating distance is up to 100 meters.
Its LCD display allows any user to read the details in the dark; hence, it is also good for diving, snorkeling, and other underwater activities.
It has a fish alarm that alerts the user when the device detected fish.
It has a radio frequency of 433.92 MHz.
It has a waterproof sensor that is resistant to water.
The OutLife Smart Portable Fish Finder with wireless sonar sensor price starts at $68.99.
The Venterior Portable Fish Finder has a water depth and temperature detector that functions with wide sonar sensor transducer with LCD display. This device can be used in river, lake, ocean, and sea. Thus, it also supports finding the approximate location of your target fish and the current depth of the water.
The device consists of sensitivity settings that can be changed to high to display the fish target whether big or small. Moreover, the Venterior Portable Fish Finder shall be used carefully during bad weather, strong waves, suspended matter, or muddy water.
Product Specifications:
It has a depth range of 1 meter to 100 meters (measured from the sonar sensor).
It contains a round transducer with a cable and removal float of 25 feet. It can be used when fishing off the dock, ice fishing, or boat fishing.
It provides several settings aside from the sensitivity option – it has power-saving mode, backlight mode, unit of measure, fish alarm, and depth and temperature option.
The Venterior Portable Fish Finder price starts at $40.99.
This list showcases the best fish finder GPS combos ranging from its product specifications and price to its overall ability underwater. This type of devices is deemed useful especially to fishermen and other fish enthusiasts. This not only canbe used in fishing but can also be utilized during diving, snorkeling, swimming, or any other underwater activities.
As fishing is starting to be known as an ideal recreational activity, more and more people are looking for devices that will help them to further explore marine life and ecosystem. Fish finder devices carry the function of clearly viewing fishes and marine life as its main use is underwater. It functions through depth and all-weather conditions putting a remark to quality, durability, documentation, and enjoyment.