Fish finders are designed to help fishermen not only locate species underwater. The devices are also designed to give you a means of getting a clearer picture of the structure below your vessel. This way, you will have more means of devising a better strategy in targeting fish.
One product that can help you with your activity is the Signstek FF-003 Portable Finder. To find out more regarding the device, given below are its details:
Brief Product Description
The Signstek FF-003 Portable Finder is a fish finder designed in order to provide you with all the necessary features a fishing device should have. In terms of efficiency, you will find this portable fish finder capable of doing what more expensive devices can offer.
Many anglers use this portable fish finder by locating schools of fish with its sonar technology. As described, this fish finder is meant for both beginners and professional fishermen. If you do not want to waste space, this is also an option since it has a sleek and compact structure. Furthermore, this is a fish finder to consider if you want to fish from small bodies of water, lakes, rivers, and even oceans.
What Comes in the Box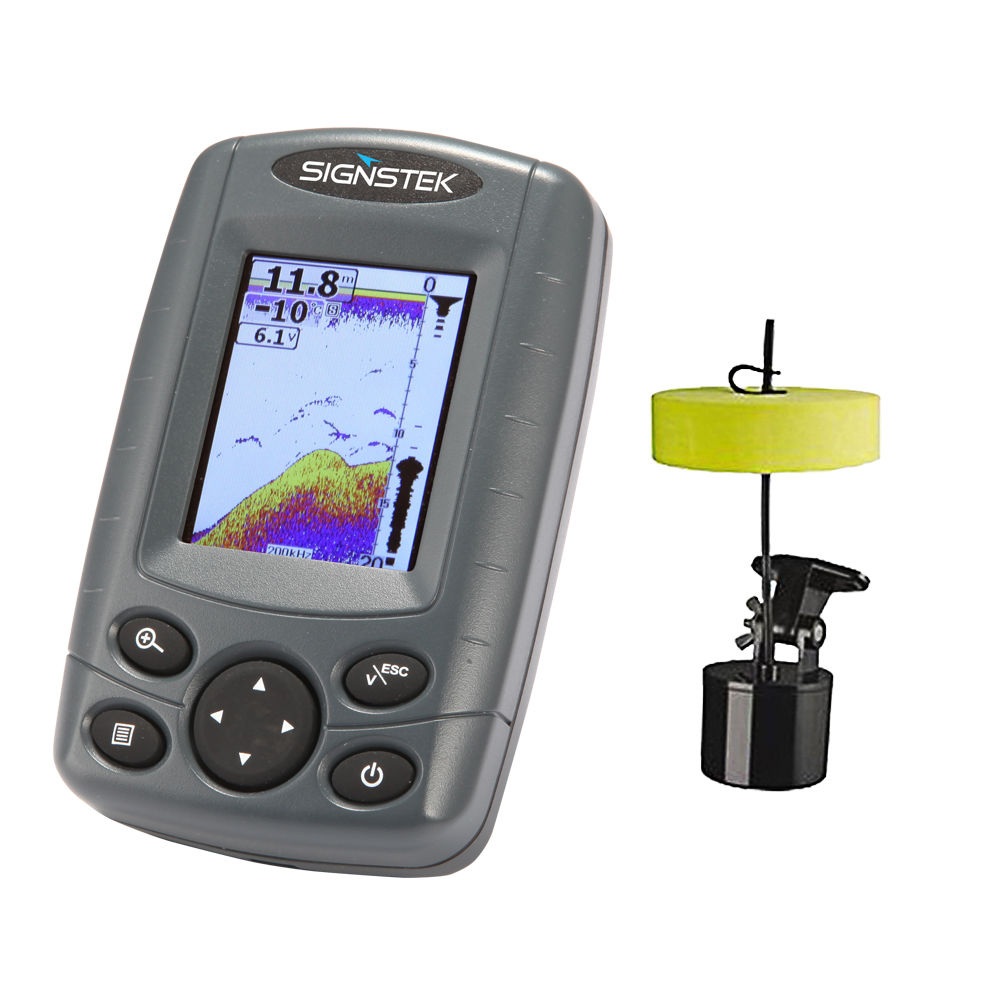 The package of the fish finder comes with one Signstek FF-003 Portable Finder, one transducer, and one screw. Moreover, the instructions for installation, operation, and maintenance are included in the box.
Product Features & Technical Details
The Signstek FF-003 Portable Finder has dimensions of 4.7 inches by 1.2 inches by 3.2 inches. It has an overall weight of 15.8 ounces. Also, it comes with 2.4-inch color TFT LCD display with a resolution of 240 pixels by 160 pixels.
Given below are its significant features:
Quick manual and automatic zoom
Features depth and fish detection alarm
Has multiple language menu
High quality battery
A Stop Chart
Short Summary of Feedback From Existing Owners
According to most of the Signstek FF-003 Portable Finder's existing owners, the device is highly useful. It is known to provide accurate details at all boat speeds. Many have also commended the product for being easy to use. Compared to its rivals, many fishermen loved the fact that it has a compact structure. Moreover, you only need batteries to power it up.
Pros of Product
Accurate reading at all speeds
Applicable for ice fishing
Good visibility
Decent battery life
Easy to use
Cons of Product
Poor quality locking collar
Reports of scratch marks on transducer
Who Should Buy This Product
Anyone who is interested in fishing can purchase the Signstek FF-003 Portable Finder. Given that it is very easy to operate even if you are a beginner, you will not have any issue with its use. Moreover, fishermen who prefer to replace their in-dash units may consider this product a good option.
Conclusion and Recommendation
The details listed above for the Signstek FF-003 Portable Finder prove that the unit is a must-have. Despite the fact that the manufacturer made the features straightforward, it never failed to comply with most of the fishermen's standards. Plus, it is highly cost-effective, which is commendable even for those with a tight budget.