There are various fish finders today that claim to provide you with the best features to get a good catch every time you fish. However, you cannot be certain until you use the product. The problem is, some advertisements can fool you into getting an inferior product.
In order to prevent this, you should try considering highly recommendable solutions, such as the Lucky Wireless FF1-718 Fish Finder. Given below are its details:
Brief Product Description
The Lucky Wireless FF1-718 Fish Finder is a top quality fish finder that will give you the edge when fishing, regardless of where you are. Apart from fishing from the shore, a boat, kayak, or canoe, you can even use it for ice fishing.
The product is designed with anti-clutter technology. It is also developed with a multi-language feature, which means that anyone may utilize the device. The fish finder is also known for its wireless distance of as far as 120 meters.
What Comes in the Box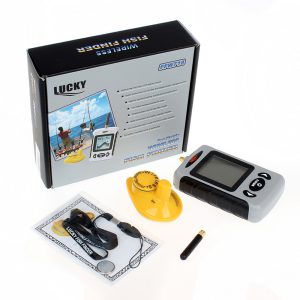 When purchasing the product, you will get one Lucky Wireless FF1-718 Fish Finder, one wireless remote sonar sensor, neck strap, external antenna, cover for sonar transmitter and receiver, 3V CR2032 button cell battery, waterproof bag, and manual.
With the useful accessories, you will have no difficulty in setting up the product. It is also safe to use, such as on either bait boats or with a rode and roach pole.
Product Features & Technical Details
The Lucky Wireless FF1-718 Fish Finder has dimensions of 8 inches by 2 inches by 7 inches. It has a display size of 1.61 inches by 1.89 inches. The fish finder is also designed with a backlight and wireless operational range. It has a depth range of up to 45 meters at the maximum.
Its significant features are the following:
Onboard smart shop for sonar setting storage
Provides accurate details with automatic clutter filter
Audible fish detection alarm
Zoom feature for interference prevention
Readable fish ID display
Short Summary of Feedback From Existing Owners
Most of the existing owners of the fish finder have commended the device. According to the fishermen, the Lucky Wireless FF1-718 Fish Finder is not only easy to set up but convent to use as well. Even when reading its display at night, you will be able to get clear details with its backlight feature, which most have commented positively about
Pros of Product
Bright and clear screen
Ideal for small boats
Shows bottom structure well
Sturdy build
Easy to use
Cons of Product
Poor battery life
Inaccurate temperature reading
Who Should Buy This Product
Anyone will find the Lucky Wireless FF1-718 Fish Finder useful. In other words, if you are a beginner, you may use the fish finder to understand the proper techniques of targeting aquatic species. Also, professional anglers will find the features of the fish finder efficient in saving time and effort.
Conclusion and Recommendation
The reviews of the product listed above prove that the Lucky Wireless FF1-718 Fish Finder is a must-have. With its inexpensive price, you will definitely find it easy to get the most out of your investment. Though cheap, the product proves that quality is not determined by its price point.