Fishing today is no longer as difficult as it was a few decades ago. Thanks to modern navigation as well as fish finding devices, fishing enthusiasts now have a better chance of getting a good catch. This is because the majority of the new devices available these days are well equipped with the newest electronic graphs like C-Map, Navionics, and Nobeltec that enable fishers to have a 3-D image of the underwater terrain just like Furuno fish finder.
One known brand trusted by fishermen when it comes to the production of marine electronics is the Japanese company, Furuno. This group produces various marine devices such as radar systems, navigational instruments as well as fish finders. All these tools are needed for every seafarer, but for those who want just to go fishing, they should prioritize and invest in quality and affordable fish finders.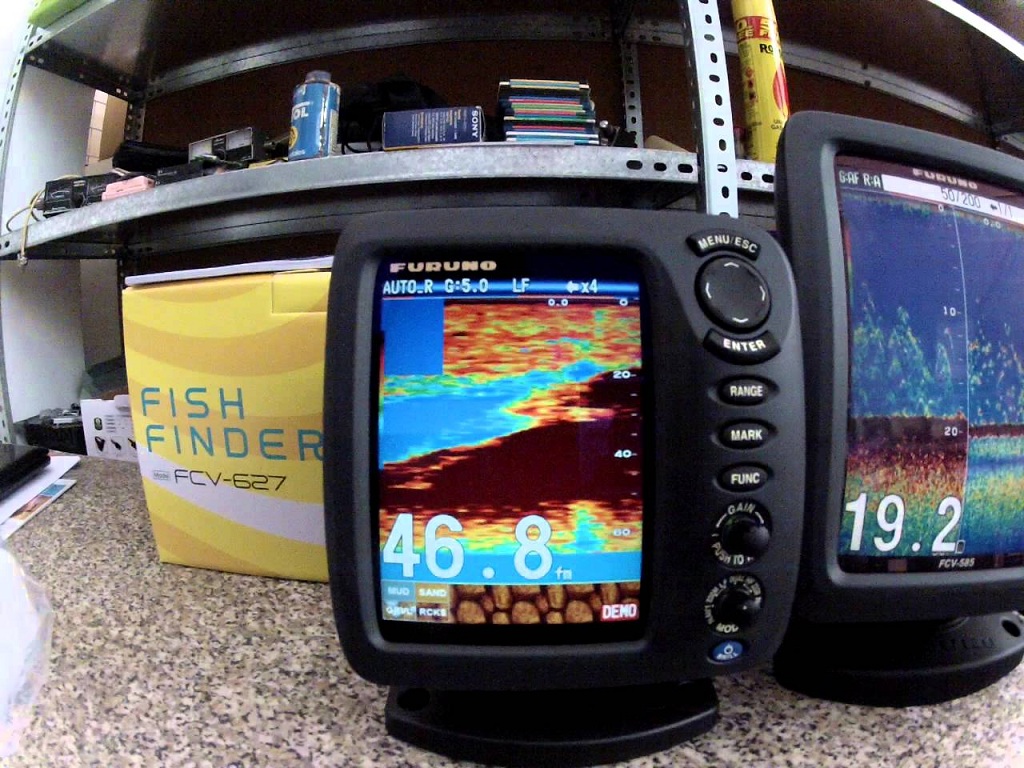 These fish finders are also known as the sounder recognizes reverberated vibration of sound energy like sonar. Since there are various types of fish finders available in the market today, we will look at some of the best products preferred both seasoned and amateur fishers.
1. Furuno FCV 628
This Furuno fish finder is a 600W device with 5.7 color display showing high image resolution. Just like all other modern fish finders, the FVC 628 comes with high-tech features such as Accu-fish and bottom discrimination.
The Accu-fish feature gives you an image of the fish's size with the help of the fish echo on-screen. Thus, you can estimate the enormity of the fish. While the bottom discrimination provides information of the composition found at the bottom.
This fish finder does not only have a 5.7 high-resolution display on the screen, but it can also give you brilliant images with 8, 16 and even 64 colors. Also, the device is waterproof so you can attach it to a center console or bridge. It also comes with visual and audio alarms.
The 600w sounder of the FCV628 uses the Furuno Digital Filter or the FDF innovation as well as the automatic adjustment technology. This auto adjusts features facilitates the adjustment of output power, grain, and clutter. This feature affects the image produced by this Furuno fish finder which allows for easy identification of a large target fish from and the baitfish. A 50/200 frequency is possible with the FCV628, and this will allow you to choose whether you want it to function at higher speed or in deep water.
Furuno FCV 628 Product Features and Specifications:
Bottom discrimination that allows identification of bottom composition and it will show if there is mud, rock or gravel below.
The device has a 5.7 " colored LCD
Dedicated fish finder
Accu-Fish – One of a kind fish analyzer that recognized the size of the fish in either RezBoost technology – Improves target separation and image clarity
The FCV 628 is ideal for those who are looking for an affordable independent fish finder that will produce high-quality images.
2. Furuno GP1870F
The GP1870F is a Furuno fish finder that integrates marine electronics with the top of the line GPS. Although this particular tool may cost way more than other fish finders, its features could surely make-up for its price because it also functions as a chart plotter. Its interface is simple, but it is extremely high-tech which features Rotokey controller.
This device weighs 4.4 pounds and measures 9.9 x 3.9 inches with glass and LCD which are bonded together, making the screen very clear even during days when the sunlight is at its brightest.
Various High-Tech Fish Finder Features
Different technologically advanced features are used in GP1870F, such as Bottom Discrimination, Accu-Fish. These two features can also be seen in the previous product, FCV 628. But on top of the mentioned features, this particular Furuno fish finder also makes use of Post-Processing Gain, a feature that allows the application of new settings to the current echoes. Thus, you can quickly pick a set that suits your preference.
Chartplotting Combined With GPS
The mapping capacity of this fish finder utilizes the Jeppesen C-MAP 4D topography which is one of the latest technologies, today. It possesses a 4D capability which enables you to update the charts once needed continuously. Hence, your device will always be up-to-date.  The C-MAP Chart also allows sailors and cruisers to have universal vector chart capacity and dynamic chart presentations, satellite illustrations, exclusive Easy Routing, 3D visualization and more. Furthermore, the Furuno GP1670F is enabled by the C-MAPD 4D to have different added features and content which are mainly designed for professional coastal and offshore fishers.
Furuno GP1870F Product Features and Specifications:
7" wide LCD which makes writings easy to read even under direct sunlight
Bonded AR glass and LCD to prevent fogging
White line feature which distinguished fish located near the bottom
C-Map 4d Jeppesen charts
Technologies such as bottom discrimination and Accu-Fish
Post-processing Gain Control adapted to every echo found on the screen
Internal antenna for GPS to ensure easy installation
The GP1870F is perfect for people who are looking for a portable tool with highly advanced features, at the right price.
3. Furuno FCV 588
The FCV 588 comes with RezBoost Technology, and an 8.4" color display that enables you distinctively identifies the fish as well as the composition what is below. When linked with a narrowband transducer, the 600/1 KW Sonar gives enhanced resolution thus the target separation is significantly improved.
RezBoost Sonar Technology
This kind of technology allows excellent target separation and precision which is at par with other expensive brands. The RezBoost feature is developed by Furuno wherein an innovative technology for the processing of the signal is utilized. As a result, the FCV588 can produce a CHIRP like an efficiency even when using the traditional transducers.
The digital filtration technology by Furuno allows users to regulate the output power and recognize the wattage capacity of the transducer to let it match. Also, the digital filtration feature also helps prevent false depth appearance especially when the fish is directly under the transducer and to block the pulse. This innovation enhances performanceboth in shallow and deep-water usage. It can be regulated to function either manually or automatically.
Post Processing Gain Control
The post processing gain control feature enables the user to monitor the status quickly. As long as these are still on the screen both the actual returns as well as the returns from that point forward will be updated. This approach is a rapid and easy method for identifying what setting is ideal for the existing water conditions.
Any seasoned boater knows that the capabilities of a fish finder may vary depending on the clarity of the water which may change due to the structure of the sea floor, recent storms and flow of water.  The FCV 588 Color Sounder's quality LCD display and advanced features, can be enjoyed by any fishermen without spending too much on the device.
Furuno FCV 588 Product Features and Specifications:
4" TFT colored LCD
RezBoost signal processing innovation
Accu-Fish
Bottom Discrimination
White line feature
Alarm function for fish echoes, depth, etc.
Display and share data on a chart plotter
Speedy transmission time of 3,000 pulse repetition rate per minute
Boaters who are looking for accuracy can find the Furuno FCV 588as a handy device to take along with their trips.
4. Furuno GP1670F
The Furuno GP1670F is ideal for people who are looking for an all-in-one LCD unit. This device is a sturdy and waterproof piece that gives highly precise data as well as clear pictures on a colored 5.7″ bonded LCD screen. This simple but powerful device integrates the best features of a Furuno Chartplotter with other user-friendly innovation.
The RotoKey interface allows ease of operation even for those who are not very familiar with the device. Once the RotoKey is activated, you will have access to a zoom regulator which is finely stepped. Youmay also have the option to use the knob to allow complete access to the device's control.
Bottom discrimination is an advantageous feature not just when fishing but also when navigating, anchoring and even in diving. This feature provides you information about the lower type which gives an advantage to a boater. The superior signal processing of this Furuno fish finder enables you will have access to graphical images of objects in the water as well as the water column. When the device is linked with a transducer, the bottom discrimination option will give graphical image to present the content of the sea floor so you can quickly identify if it is rock, gravel or mud.
Furuno GP1670F Product Features and Specifications:
7" colored and polarized LCD screen
640 x 480 VGA resolution
Six customizable displays
C-MAP 4D Cartography which allows easy steering, satellite images which include 2D and 3D presentation
Dual-frequency
Bottom discrimination
White line feature
Accu-Fish
Since this fish finder has an internal antenna, it can be easily installed in a secured surface. Its dual-range presentation will enable you to see long and short ranges on the chart, together split-screen image.
The GP1670F also supports C-Map 4D, an adaptable and compact charting solution that provides users detailed content and features which are essential to enhance your time in the water.
This device is perfect for those who are looking for sturdy, waterproof and compact fish finder that delivers superior and precise data as well as clear images. The GP1670F is not only easy and fast to use, but it is also a powerful tool because of the integrated Furuno technology.
5. Furuno FCV 627
The FCV 627 is another quality fish finder by Furuno which is specially designed to suit small leisure and fishing boats. It comes with a 5.7" LCD display that is made of sturdy bonded glass. It also offers a variety of colors with 8, 16 or 64 color echo image. The screen resolution is 640×480 pixels.
The Accu-Fish feature is an innovative fish size evaluation function that can provide you with necessary data that can estimate the size of the fish underneath the boat. When the fish is detected, the fish symbol will show on display. This also includes the approximate depth and its probable size. The feature, you can detect a fish as small as 4 inches or as huge as 6 feet long with the distance of 7 feet to about 300 feet below.
The Accu-Fish feature consists of low and high frequencies which are mixed to represent various target fishes. Through this feature, those who are just learning to fish can already distinguish a bait ball for a target billfish.
Despite variation in underwater condition, the FCV 627 could still show clear display on its bright LCD screen. If you are wearing polarized sunglasses while fishing, you can still clearly see the visibility of the screen.
If you want to enhance your fishing experience, you can opt to connect the fish finder with a Chart Plotter and Speed Sensors like he NMEAo183 GPS. The GPS will track the location as well as the speed of the boat. The information on the longitude and latitude can be stored so if you have a favorite fishing spot, you can save it for future use.
Furuno FCV 627 Product Features and Specifications:
7" LCD display made from bonded and sturdy glass
640 x 480 pixels
64 Color Echo Presentations
Hands-free control of output power, STC, and gain using digital filtering
Range scales of up to 3,500 feet
Accu-Fish
Bottom Discrimination
Advanced White Line feature
Helpful Buying Guide for Superior Fish Finders
There are various fish finder models available that is why it can be difficult to pick a device. However, if you can recognize which features can help you meet your personal needs and dishing style then choosing fish finder will be easier. Before you finalize your purchase, you need to ask yourself if the device or the feature will help you catch more fish?
Below are some important detector features which are vital in fish finders:
The quality of display can be determined by looking at the number of pixels. The higher the pixel, the more detailed screen images are achieved. However, as the number of pixels increases so does the price of the fish finder.
If you want to stick to a budget, you can check out the lowest pixel of 240 x 160. This type of screen may provide you with a blocky kind of pictures, but you can always check out higher pixels.Other than the number of pixels, the size of the screen can also contribute to a high quality and clearer picture.
The transducer is a vital component of a fish finder because it transmits the sound waves and displays what is beneath the water. The sonar signal which is transmitted by the transducer into the water bounces off of the items found underwater then it is received by the transducer. The signal can now be translated into an image.
In choosing a transducer, you should examine the cone angle. If you want a larger view of the margins underneath, pick a device that provides a better degree on the cone. If the poles are wider, the range also has more coverage of the area under water. Thus, allowing enhance the ability to locate the positions of fish.
The measure for a fish finder's power unit is watts. When the wattage is high, it means the device is more efficient and has improved rate of showing readings and more functional depth. If you plan to fish in shallower water, you can opt for the tool with lower wattage.
You can choose either a portable or a fixed fish finder depending on its use. A portable fish finder is preferred if you are just renting a boat. This particular device comes with a battery power supply and a carrying case. Fixed fish finders are for settled watercraft owners and anglers. The device can be permanently fixed in any location of your choice.
GPS and Fish Finder in One
If you want a superior fishing device, you should think about using extra features such as a GPS or the global positioning system. This feature makes use of satellites in calculating your precise location.
The GPS is a vital component for fishers, and when it is integrated together with fish finders, it does produce not only a space saving tool but also a convenient and cost-effective device. The GPS enables you to have the ability to save a hot fishing area, and you can easily get back to the exact location when needed.
You can never go wrong when choosing a Furuno fish finder because of features which are all useful for any fishermen. There are various models and choosing just one can lead you to be confused. You should consider what your needs and examine the product guidelines to help you make better choices.