There are many fishermen who are now considering fish finders as reliable devices when it comes to making their activity more convenient. If you also want to save time in locating fish, identifying structures at the bottom of the sea, and having a bigger catch, a trusted fish finder is the answer.
However, you should also make sure that you purchase a reliable device. One good option is the Deeper Smart Sonar PRO+ Fish Finder. To find out more details about this device, kindly read the excerpt below:
Brief Product Description
The Deeper Smart Sonar PRO+ Fish Finder is a device meant for smart fishing. It makes use of GPS technology in order to provide you with not just a fish finding solution but a mapping device as well. Deeper Sonar developed this fish finder with an advanced Wi-Fi connection, giving way for huge data and great range monitoring.
What makes the Deeper Smart Sonar PRO+ Fish Finder different from other devices is its accurate data that can be obtained in real time regardless of your location such as on shore or a boat.
What Comes in the Box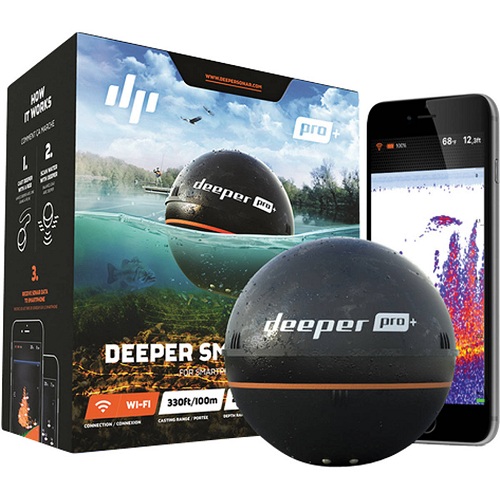 In every box of the fish finder, you will get one Deeper Smart Sonar PRO+ Fish Finder, a neoprene carry pouch, USB wire, two attachment bolts, and manuals, among others.
With these accessories, you will find it easy to set up the fish finder. Apart from its reliable features, you can say that Deeper Sonar gives users convenience in terms of configuration.
Product Features & Technical Details
The fish finder has dimensions of 2.6 inches by 2.6 inches by 2.6 inches. It has an overall weight of 3.5 ounces. The fish finder has a Bluetooth connection with a range of 130 feet. Moreover, the Deeper Smart Sonar PRO+ Fish Finder can provide up to seven scans, which can separate objects up to a 0.26-foot distance.
You can also anticipate the device to cover a depth range of 130 feet. Also, it has a boat mode for contour mapping.
The significant features of the product are the following:
Wi-Fi powered connectivity for further range
High precision scanning
Improved scanning resolution
Accurate onboard GPS receiver
Extensive offline maps using the app
Short Summary of Feedback From Existing Owners
According to most of the Deeper Smart Sonar PRO+ Fish Finder's users, you can consider the fish finder a reliable device. Fishermen claimed that with its use, their shoreline and boat fishing have improved. Many have also loved the fact that it comes with a fish alarm, giving you alerts whenever various species are around.